Pay for purchases using funds from your account without writing checks. Use anywhere MasterCard is accepted – online or in-person. You can also use your NBM Debit Card at ATMs worldwide. All debit card transactions are listed on your monthly checking account statement and viewable right away in Online Banking and the NBM App. Set up alerts or manage card security features by selecting Card Controls within Digital Banking to help guard you against debit card fraud.
Ways to use your NBM debit card
Tap-to-pay
Wherever you see the Tap-to-Pay icon, you can pay using your NBM debit card just by holding it above the terminal. The merchant receives a temporary code instead of your card number to help protect against fraud.
Insert Chip
Just insert your card into the slot on the payment terminal. The chip on your card provides the merchant with a temporary code instead of your card number.
Swipe
Use the magnetic strip on your card at older terminals without insert chip or tap-to-pay options. This is the least secure payment method as it provides your actual card number to the merchant.
Online
Use your NBM Debit Card for online shopping and services by entering your card information where prompted. Make sure to only use your debit card on reputable sites!
Mobile Wallet
Add your NBM debit card to your Mobile Wallet (Apple Pay, Google Pay, and Samsung Pay) and easily pay online or in-person with your smart device wherever you see the Tap-to-Pay icon.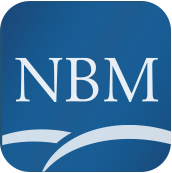 With Card Controls, you call the shots.
Card Controls (in online & mobile banking) puts you in control of your debit card. You can:
Turn your debit card on or off
Set up alerts and controls on your debit card
Submit travel notifications
View recent and pending transactions
View account details
Your debit cards should automatically appear in Card Controls within online banking and our mobile app. If you do not see your debit card(s) there, please contact us.
Apple Pay, Google Pay, and Samsung Pay are trademarks of Apple, Google, and Samsung, respectively. The Tap-to-Pay icon (Contactless Symbol) is a logo owned by EMVCo, LLC.